Phrontistery.net
Site Under Development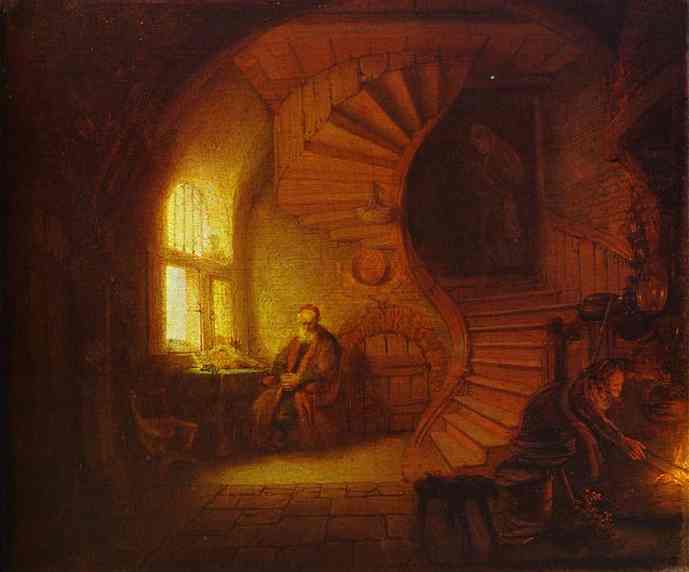 phrontistery (plural phrontisteries)

1. a thinking place
2. an establishment devoted to education or study




Etymology

Ancient Greek φροντιστήριον (phrontistērion), from φροντιστής (phrontistēs), "'a thinker'", from φρονέω (phroneō), "'to think'".
So what is phrontistery and what is the purpose of this website?
As noted above, phrontistery, by definition and etymology, is defined by words such as "thinking", "education", "study", "thinker" and "to think". So a phrontistery is a Thinkery - a place where thinkers go to think, to study, to learn, to teach, to question, analyze, hypothesize, debunk, bolster or broach any subject. Phrontistery.net is a place where free thinkers can go to think and learn, and also teach others by advancing your own opionions, in your own way.
Free Thinkers Unite on Phrontistery.net!
Free Thinkers who qualify (by intelligence) for a sub-domain can use this site to host their own website on a sub-domain of this site, such as http://540death.phrontistery.net which is a current sub-domain created for a user on this site. Get your own sub-domain, ftp access, even email account @phrontistery.net, all free of charge. Design your site in your own way. Presentation of your ideas, the content, scope, aesthetics, everything - is under your own personal dictatorial control.
Why the fuck would anyone do this?
Phrontistery.net is making free webspace available on its servers for free thinkers to help organize, advance, and generally further the status and pervasiveness of free thinking, of studying, of learning; in a context of tolerance and acceptance.
In addition to the webspace, numerous software packages can be added to your sub-domain free of charge, from full Content Managment Systems such as Joomla and Drupal, to Forums, Galleries, Wikis, Blogs and more.
(examples coming soon - keep your eye on this index page for new additions here)
I do have some free thinkers I know already who I'm extending an opportunity to use this site for promotion of their own phronteristic ideas. From WinMx, this includes but is not limited to the following free thinkers I've met over the years:
Sugga, Daedalus, Barrett, Hobbes, mauxfaux, Cain, V-Loc, Giles Corey, sindel, Jew, sherie, mabo, AntiChrist, Noski, dr paul, LennyBloom, Luna, |-|atred, Rai, Oddball, MightyQGirl, Sanchita, Pantele, Vladd44, fukrot, gwb, AbbyHaze, Poe(Tosh), Kita, FatalX, summerbreeze, Cinny, Kã']['îê, babelicious, MàÑdý, WastedRockRanger, Friel, Aredhel, Cato, Toria, Conan, whistle, Rampage, milestone, sylbm, Sprinkles, Jega, Ashwing, mickey, mjmadhatter, Chasing, jaffa, Hucky, horsey, TheeQueen, Kingkil, Gnowm, ']['h뤇RoÑ|¥|ºÑKè¥, matt, mexi, Ding choco-forever, ShyKitty, katey, LapisLee, Kita, TarynTonks, ßlîtzkrìég!, Ðá><, Busta, Tr0y, Kimbyr0x, Baka!, VKTRS, Maxx, nofreebeer, Ghostrider, Santi, LaydieWitch, Illiandra Grrrrrr, Ausar, ritzla, Jest, U2ME2U, GringoBr, manderz, GimmeMyBeersBack, Chrissy, Trog, skullfuck, ßossyßÓÒbs, StormeyAnn, Kelly, Baal, Carrie, ÐÊ/¥\ëñTÊÐ/¥\uþþëT, BoomBoomBerry, fenris, TheArtofInsaneSkipping, Hellion, LoneRanger, obsidian, Scar, MUD, Wench, Steffi, Kate!, Frank, Sydney, BillJr, Chardok, Relentless, mollyk, Sui:cædere, BandwidthBinge-er, Dawn, Karen, Ed, Emily, Ethnobotanical, Fü§ïºñ, Shellz, Tíñky, Adam, ßùññý, Nicola, Skylar, Avast, Cher, Lysser, kinkydoc, Jake, Charli, Chëëk¥ßabehMüñ¢hkïñ, vampy, Twceblessed, Surf, RReactor, Kimberly, MizZzy, Kris!, Linuxero, ChangingMeStill, Scrabbles, Kat, NaughtyAngel, FileWarrior, roomx, Alie, Krista, Prick, Dawnie, Zoe, mellokat, waka, Zenith, Wiley, Max, Druântiâ and the list keeps growing!

Phrontistery.Net - a joint philosophical venture by Knot4Prophet & Barrett & Daedalus
© 2008 Phrontistery.net All Rights Reserved. Web Design by Knot4Prophet™